---
05/29/2002
---
Paco v1.1 is availabe ! It's the Amstrad CPC emulator for the GBA, but it only plays one game at the moment : La Abadia del Crimen. The game is based on one book of Umberto Ecco.
---
05/21/2002
---
If you still have a NC, you will be able to find some parts of the NC100 and NC200 manual on Tim's Amstrad NC Users' Site.
You like chicken with mayonnaise ? In this case you will certainly like Mayonnux, a new operating system for Amstrad CPC which makes you feel good where you feel bad. Pages are in french only at the moment, but Mayonnux could maybe become an OS recognizing other languages soon (SPOILER : not serious).
Dirty Minds site has been updated.
---
05/15/2002
---
After a long time, the french AFC paper zine Amstrad Live n°17 is out.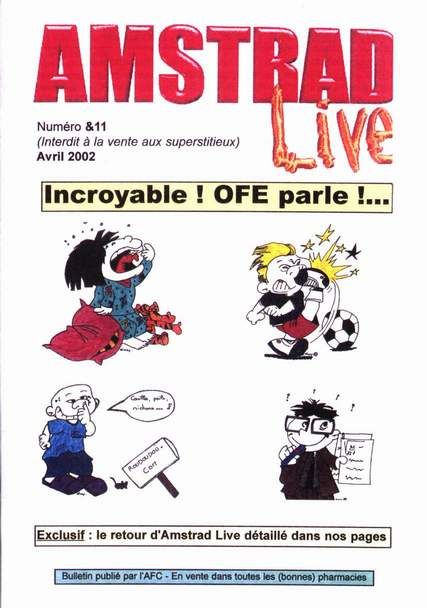 ---
05/13/2002
---
News games available on CPC Museum, and also scans from inlays.
---
05/09/2002
---
Get Maxi Micro issue 3, a french Amstrad CPC disc zine.
CPC Oxygen issue 5 is out.
---
05/07/2002
---
Get Disc Full issue 5, a french Amstrad CPC disc zine.
---
05/05/2002
---
There will be soon an Amstrad CPC meeting in Germany at Erlangen from friday 24th may to sundy 26th may 2002.

CPC Magazine Covers has been updated with all Amstrad Action covers pictures.
---
05/04/2002
---
No more belts, I am waiting to receive some.
Please follow this link to read the archives of the past months