August 200 archives
---
08/28/2000
---
Get Quasar issues 8 to 13, the french paper zine about Amstrad CPC by Futurs.
---
08/27/2000
---
Get Roudoudou's last productions : Roudoudou : Basic Demo 3, Asm Intro 1 and Snapshot Manager (an utility to transfer files to 64 Ko snapshots used by CPC emulators).
To use the PcW16 emulation from M.E.S.S., get rescue disk.
For NC users, get NOTEPAD.EMU for Atari ST by D. Dupré, which emulates the BBC Basic, also includes a Z80 desassembler.
If you use CPC-SOUNDTRAKKER, get it as 2 ROMs with its compiler and TSP.
---
08/26/2000
---
The comp.sys.amstrad.8bit FAQ exists now also in spanish.
---
08/23/2000
---
For more informations about the next german Amstrad CPC meeting go to CPC Klassentreffen 2001 (8th to 10th june 2001).
Another german Amstrad CPC meeting : XzentriX Treffen 2000.
For your information, M.E.S.S. v37 beta 7 will emulate the Amstrad NC200.
---
08/08/2000
---
Next M.E.S.S. emulator version (37 beta 6) will also emulate the NC100 notepad. I am looking for a NC200 to buy or to get the ROM. While you are waiting for this new version, get the new MAC version 37 beta 5a, and a win9x version of 37 beta 5.
You can also get Arnold v1.01 for MAC, ATM issue 5 (english CPC disk zine), BBC BASIC (Z80) v3.0 for CP/M and a demo version of BBC BASIC (86) for msdos.
There is also a new version of STSound for win9x, get v5.31 here.
---
08/06/2000
---
New sites added, go to :
- BBCBASIC, a site about BBC BASIC, with a comprehensive language reference.
- Design IT, manufacturers of 'DelTron', data-logging hardware and software for the NC100/200 and BBC Micro,
- N-connect, a solution to link a NC100 to an Acorn RISC OS, with many features.
- NC100 Magic, a page for ordering a book about NC100, to use it better, gives also hidden commands,
BBC BASIC (Z80), used on NC100/150/200 and available on CP/M computers, is now free, get it at R.T. RUSSELL homepage.
There is a NC100/150/200 mailing list.
I ordered to Vikant Corp. a PCMCIA memory card for my NC100 on the 30th july. Less than a week after I have received it.
New files added, get :
- the MAC version of the M.E.S.S. emulator,
- Cubic, a reflexion game for Amstrad CPC,
- Manoir, an adventure game for Amstrad CPC.
---
08/03/2000
---
There is a new version (37 beta 5) of the M.E.S.S. emulator. Nothing fancy you could think, except that it emulates now the PCW range, even the PCW16, so get it !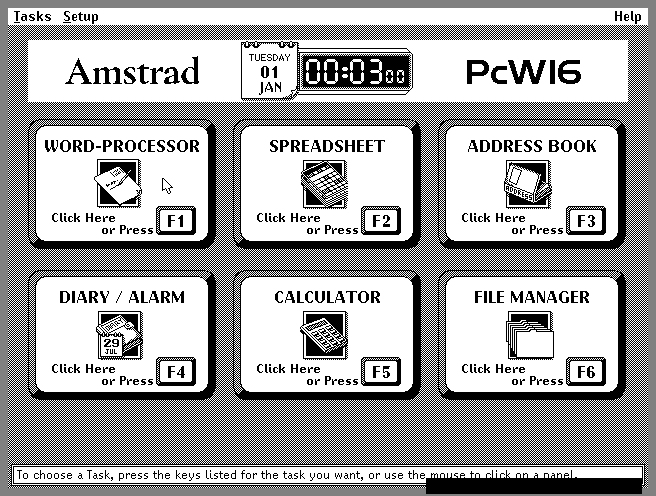 Please follow this link to read the archives of the past months